Ellie Whyte
A German residence permit (aufenthaltstitel) is a legal requirement for all non-European citizens who need to stay in Germany for longer than 90 days. So unlike a visa that is required to enter and stay in Germany for up to 90 days, the residence permit allows you to stay in Germany for more than 3 months. The permit also functions as your identity in Germany and allows you to travel freely throughout the EU. Given its importance, you need to apply for it as soon as you arrive and before your visa expires.
This guide will give you all the information you need about the types of residence permits and how to get a German residence permit easily.
Do you need a German residence permit?
A residence permit is not required for EU and EEA citizens who intend to stay in Germany for more than 90 days. But you need to register your German address with your local foreigner's office within 90 days of arrival.
If you move from Australia, Canada, Israel, Japan, New Zealand, the Republic of Korea, or the US, you can enter Germany without a visa. Once in Germany, you have 90 days to apply and get your residence permit.
If you're coming from any other non-EU country, you need to apply for your appropriate long-stay visa to enter Germany. After that, you've got 90 days to apply for your residence permit.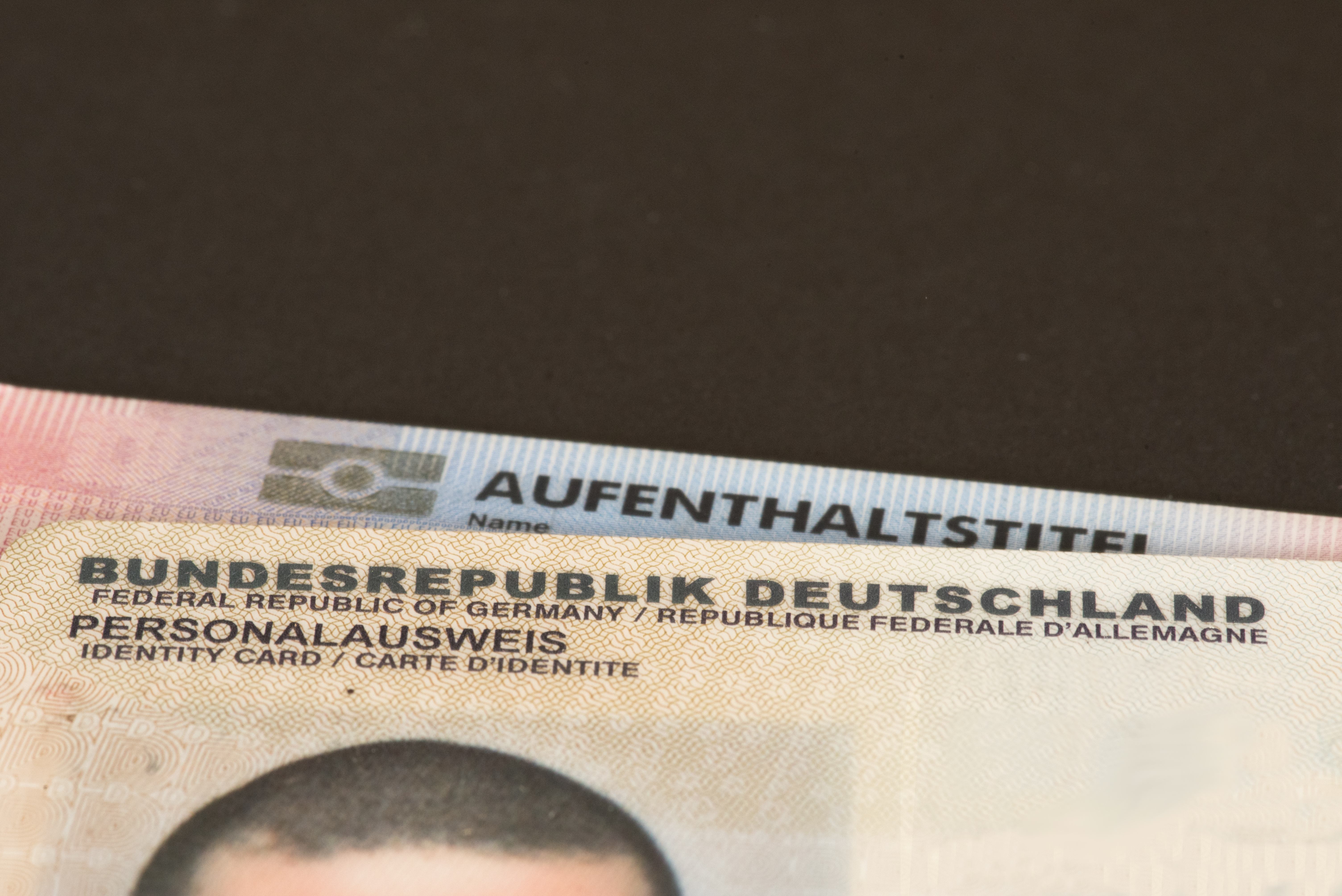 Types of German residence permits
There're 2 types of aufenthaltstitel's or German residence permits:
Temporary residence permit (Aufenthaltserlaubnis) – issued for a particular purpose of stay to first-time residents or those who are in Germany for a limited period of time.
Permanent residence permit (Niederlassungserlaubnis) – for those who've lived 5 uninterrupted years in Germany (unless exceptions apply) and want to live here indefinitely.
Temporary residence permits
The German temporary residence permit (Aufenthaltserlaubnis) is issued for specific reasons, like work, study or family reunion. It's usually valid for 1 year or a maximum of 4 years and is renewable. During your stay, you're only allowed to do the activity that is stated on your German residence permit, e.g. study or work.
Work permit
The type of temporary work permit you'll receive depends on your qualifications, the job you're hired for, and the work visa you've applied for.
Residence permit for jobseekers: Issued for a maximum of 6 months or a maximum of 18 months if you've graduated in Germany.
Residence permit for qualified employment: (Highly skilled permit): Issued for the duration of your contract plus 3 months, or a maximum of 4 years.
EU Blue card: Issued for the duration of your contract plus 3 months, or a maximum of 4 years.
Residence permit for self-employment: Initially issued for up to 3 years.
IT specialist residence permit: Valid until your contract ends.
Student permit
Entering on a student visa? To study in Germany or do an internship, you need one of the 4 types of student permits:
Regular student permit: valid for the duration of your program.
Residence permit for the purpose of applying for study: issued for a maximum of 9 months and is non-renewable.
Residence permit for language acquisition: issued for the duration of your course or a maximum of 12 months.
Residence permit to complete an academic internship: issued for the internship duration or a maximum of 6 months.
The regular student permit allows you to do student jobs and also work 120 full days 240 half days a year.
Spouse joining partner permit
Whether you're an EU citizen or a non-EU resident in Germany, you can bring your non-European spouse to Germany on this dependent permit. Your spouse will then have the right to stay and work in Germany. Depending on your permit, your spouse may be exempt from knowing German at B1 level.
German permanent residence permit
Non-EU citizens who've lived in Germany uninterruptedly for 3-5 years and meet certain requirements can apply for the permanent residence permit (also known as Settlement permit or Niederlassungserlaubnis). This permit will allow you to live and work in Germany indefinitely and is the best option if you don't want to apply for German citizenship or want more security and support from the German government.
To apply for the settlement permit, you need:
You can get your settlement permit earlier if the following exceptions apply to you.
Be aware that your permanent residence permit may expire if you leave the country for more than 6 months. You can ask for special permission to leave for longer than 6 months. Check with your local immigration office before leaving for a long time if you're unsure.
European residence permit
The European residence permit is similar to the German residence permit, however it allows for freedom of movement within the Schengen zone and temporary residence in all EU countries.
Requirements to apply for a German residence permit
To apply for a German residence permit, you need to have the following documents ready:
There are additional requirements if you want to apply for a permanent residence permit:
How to apply for a German residence permit
Register your address
To apply for the residence permit, you need a proof of address certificate (Anmeldebestätigung). To get this certificate, you must register your German address at the Einwohnermeldeamt (resident registration office) within 14 days of your arrival. To register your address, you need to ask your landlord to fill in the Wohnungsgeberbestätigung form to confirm you'll be living in their property.
Since finding housing in expat-friendly German cities or getting an appointment at the Einwohnermeldeamt offices can take long, it's important you do these before you arrive in Germany!
Apply for health insurance
Health insurance in Germany is a legal obligation for all residents. Since foreign insurance policies are rarely accepted, it's best to choose German public health insurance, especially if you're eligible for it.
Gather proof of sufficient income
You need to present bank statements from the past few months as proof of sufficient financial means. If you're a student or are unemployed, you'll need to open a blocked German bank account (Sperrkonto account) with at least €11,208 (as of 2022).
Submit your application
To apply for the German residence permit, you need to submit all documents mentioned earlier at the local foreigner's office (Ausländerbehörde). While you can walk into the office, it's better to make an appointment as the slots can be booked up weeks in advance.
If you miss something or submit incorrect documents, your application will be delayed or rejected. If everything is good, the officer will conduct a short interview and ask you to pay the application fee. The application fee will usually range between €110-150 depending on your situation.
"

If you're living in Berlin, here's how you can book your appointment at the local Ausländerbehörde.

"
How long does it take to get the German residence permit?
The processing time for your German residence permit will typically take between 2-4 weeks. While you wait for the permit, you'll be issued a certificate to help prove your legal status in Germany. Using this certificate, you can travel while you're waiting for your German residence permit.
Your German residence permit
Once your permit is ready, you'll be asked to collect it from the foreigner's office. Your residence permit will be an electronic residence permit(eAT), which is a plastic card containing a chip and your biometric information. Using this, you can do various things, such as verify your age or address, identify yourself online, travel within the EU, etc.
Please reach out to content@housinganywhere.com if you have any suggestions or inquiries about the content on this page.