Sofia
Florence is not only one of the best places to live in Italy but also a great place for study abroad students. Whether it be the renowned universities, big and vibrant student population, exciting nightlife, magnificent art, or delicious food, you'll have the most unforgettable study abroad experience in Florence, Italy.
Find out:
Reasons to study abroad in Florence
How to study abroad in Florence
What is it like studying in Florence?
Practical tips for studying abroad in Florence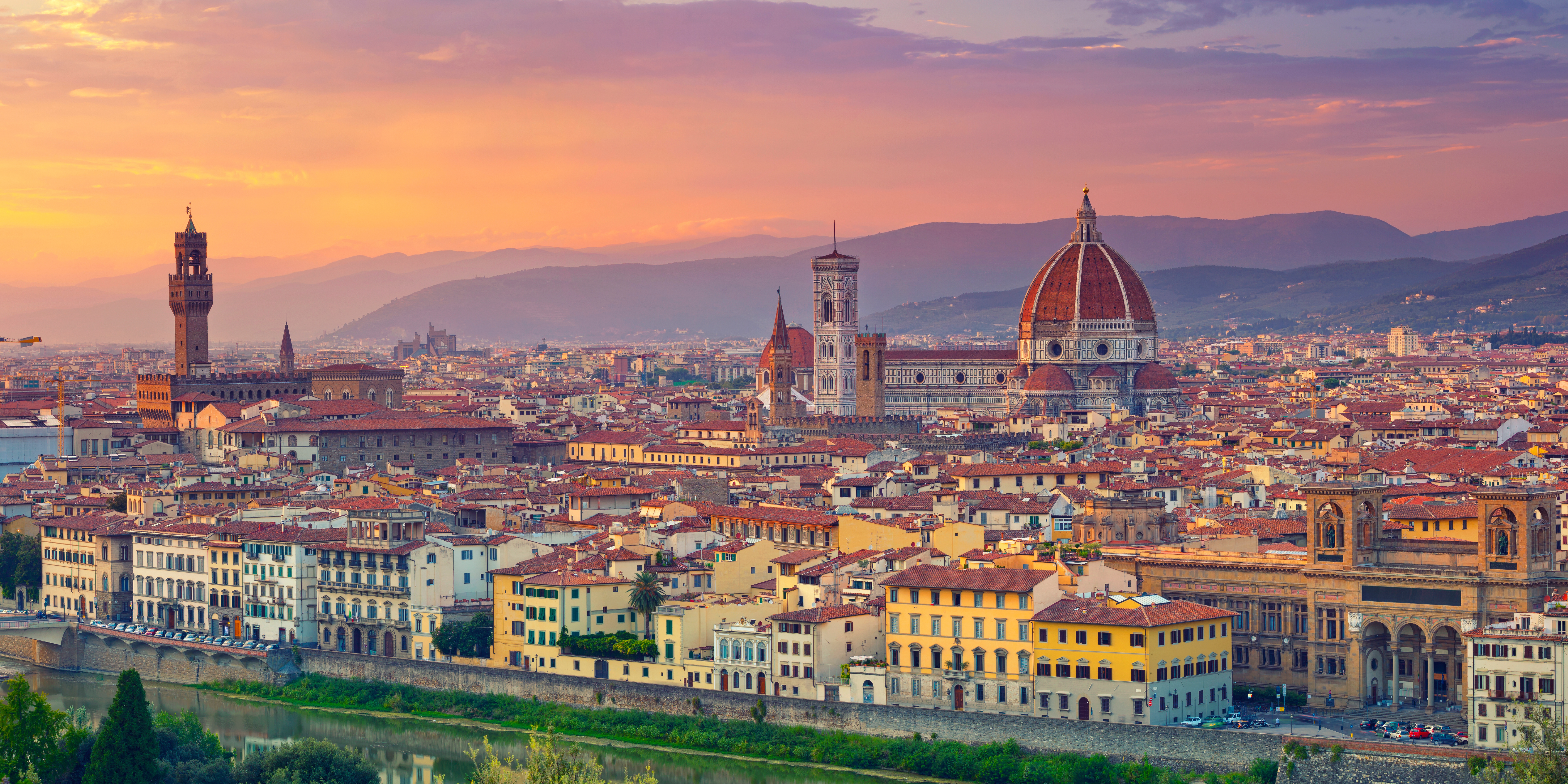 Reasons to study abroad in Florence
Besides the many reasons to move to Italy, here're some specific reasons why you should move to Florence for your studies:
Florence is renowned for its art, architecture and history, making it the perfect study abroad destination for those who are interested in or want to develop a career in art and culture. At every corner, you'll be welcomed by gorgeous sights.
You'll enjoy life on a budget. The cost of living in Florence is low compared to cities such as Rome or Milan. Most students spend around €1,000 per month and you can use your student card to get discounts. Besides that, if you're coming on an Erasmus exchange, you'll be eligible for an Erasmus grant and if you're an international student, you can also apply for a scholarship to study in Florence.
You'll be able to travel easily to beautiful destinations. The city is easy to navigate by foot or public transport. And since Florence is well connected by train, you can also go on some trips to nearby cities during your study abroad.
You'll wine and dine like royalty. Florence is in the Tuscan region, which is known for its high quality and delicious wine. You'll also get to savour Florentine food, such as gelato at Gelateria dei Neri and paninis at Pino's, a restaurant that has been serving delicious paninis to study abroad students for years!
How can I study abroad in Florence?
There're 2 options if you want to study abroad in Florence.
Check your university's study abroad programs in Florence. If you're from a European country, this could be an Erasmus exchange program.
Check the various external organisations that offer study abroad programs in Florence.
Best universities in Florence for study abroad students
Since Florence is so popular with students, several international universities have partnerships with universities in Florence or even have a branch in Florence!
"

The benefit of organising your study abroad through your university is that they're often cheaper than outside organisations.

"
Here're some of the universities in Florence that're popular with study abroad students:
Best study abroad programs in Florence
If you're not able to organise an exchange through your university, there're plenty of organisations that have fantastic study abroad programs in Florence.
Most of these organisations also offer an opportunity to intern in Florence to make it a more enriching experience.
What is it like studying in Florence as an international student?
Despite how exciting moving and studying in another country may seem, it's important to be aware of what to expect from studying abroad in Florence.
Do I need to know Italian to study in Florence?
Florence is a popular tourist city, so you won't have problems finding people talking in English. However, if you're going to stay in the country for a few months and want to make local friends, it would be useful to learn Italian.
But if that's not your thing, then that's okay because every university in Florence offers courses fully in English for international students.
If you want to pursue a full degree program in Italian, you've to present an Italian proficiency certificate. The CELI certification is the most commonly used for this purpose and you should demonstrate at least B2 level proficiency.
Education system
In Italy, a full-time bachelor's degree ( Laurea Triennale) is 3 years and a full-time master's degree (Laurea Magistrale) is 2 years. As an exchange student, you can do a semester or a year abroad and learn alongside the full-time students.
Exams and grades
Exams in Italy consist of written and oral exams and usually take place 3 times a year. Depending on the course, you can also have individual and team assignments.
Grades at Italian universities go from 0 to 30, where 30 is the highest. As an exchange student, it's best to ask your university how they'll count grades. If you're a full-time student, you must pass the compulsory modules with a minimum grade of 18 to progress to the next academic year. If you choose optional modules, you can choose to take the exams during your last year at the university as well.
Student culture in Italy
Studying in Italy is an incredible experience and way different from any other country.
Student culture in Italy is based on independent learning and practice. So apart from going to classes, which are not always compulsory to attend, you'll need to self-study. The class sizes are also small, allowing for a lot of group assignments or speaking.
When not in class, students prefer to go to the university library to study with their friends or have a meal together at local restaurants in their free time. Afterwards, you'll find students walking through the busy streets of Florence, hanging out at the piazzas, having an aperitivo at the bars, or heading out for a night of partying at the local nightclubs. No matter what you prefer, there's something for each type of student.
Student housing and student neighbourhoods in Florence
Unless you're coming to Florence as part of an external organisation's study abroad program, you'll need to organise your own accommodation.
The universities of Florence don't provide student halls. But they assist their students in finding suitable accommodation at discounted rates. But due to the high number of students looking for accommodation, the universities may not be able to assist everyone.
Students often choose to find cheap student rooms for rent in Florence in the apartment with other students during their time at the university, to minimise costs and make new friends.
In terms of location, Oltrano and Via Bolognese are two of the best Florence neighbourhoods for students who are on a budget. Oltrano is close to the city centre while Via Bolognese is located in the suburb. However, they're both well-connected to the centre and the rest of the city by public transport.
Practical tips for studying abroad in Florence
Apply for your Italian student visa early!
Save digital copies of your most important documents, such as your passport and visa.
Pack for all seasons and don't forget some local currency and a camera to capture all your memories!
Note down the emergency numbers, including the bank's number in case your card is lost or stolen.
Learn how to live like a local.
Learn Italian to make your daily life easy and to also step out of the international bubble.
Find out where to do groceries to save money. Don't forget the fresh weekly markets, such as Sant'Ambrogio!
Get a local sim card as it'll be much cheaper, even when you travel across Europe.
Get a local bank account for no withdrawal fees and make life easier when paying bills or friends.
Enjoy Italian food, wine and coffee culture at the small eateries for an authentic experience.
Follow the Italian dress code if you go to specific places, such as restaurants, churches, or museums.
Take things slow! That's the best and only way to enjoy the Italian culture.
Now that you know what to expect and some practical tips for living in studying in Florence, we just want to say Benvenuti a Firenze!
Please reach out to content@housinganywhere.com if you have any suggestions or inquiries about the content on this page.